---
(I may have to add a new tagline to my blog – this was not the recipe I intended to make)
This week's menu plan revolved around a couple of sweet potatoes I picked up a little while ago that I need to eat. Sadly, by Monday evening the plan was already knocked off schedule and my slow cooked sweet potato and black bean burritos did not happen. I came to Tuesday evening with a need for a quick finish sweet potato recipe. Clearly an off-plan improvisation was needed.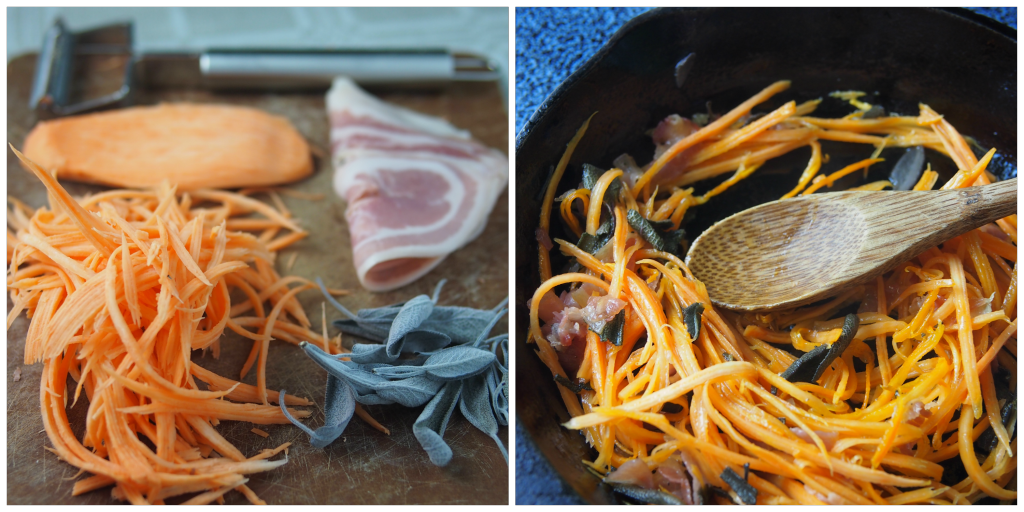 I remembered the scant handful of sage picked from a friend's neighbor's sharing garden (she plants herbs along the sidewalk and encourages those passing by to help themselves.) It's been sitting on my counter and drying nicely and is very aromatic. And a couple of pieces of pancetta were left in my fridge. What all that added up to was a quick little sweet potato dish that cooked nicely while my chicken was grilling.

Sweet Potato with Sage and Pancetta
Serves 1
Though my meals are usually made for one, I rarely cook without creating intentional leftovers. This was an exception – a single serving dish. Mostly because though I think the julienne peeler is more convenient than julienne with a knife (at least at this whisper thin size) I still don't enjoy using it. So I prepped enough sweet potato for one and no more. You can easily scale this up for a couple or family size.
1 slice pancetta, diced
A few leaves of fresh or dried sage, to taste
1 quarter small sweet potato
1 Tablespoon olive oil
salt and pepper to taste
Over medium heat, cook the pancetta til it begins to become translucent. Add sage and stir. Continue cooking until the sage is aromatic. Add olive oil and sweet potato. Cook until the sweet potato is tender.
Finish with salt and pepper to taste.