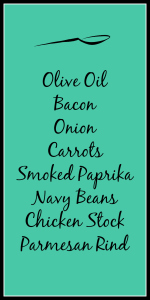 This was supposed to be soup. This was supposed to be soup because it's November and there is a chill in the air and I love soup and so of course I was going to come home from church and make a big pot of something to simmer. Because a big pot of something simmering on a chilly Sunday afternoon is just about the best thing in the world.
Also, I just bought some new smoked paprika. And this soup was supposed to be all about an excuse to use the paprika. A smoky paprika-flavored soup simmering for an hour or two on my stove to celebrate (yes, celebrate!) the cold weather. Hibernation food.
Then I got to the moment when I needed to add my chicken stock and the intense scent of bacon and onions and paprika hit my nose and cried out to remain undiluted and I realized I was using canned beans so there is no need to simmer for hours. So I thought – stewed beans!
If you'd prefer soup, increase the chicken stock by a cup. Toss in some chopped greens for a more nutritionally complete one pot meal.

Beans with Paprika & Parmesan
Serves: 3 or 4
1 Tablespoon Olive Oil
1 1/2 slices bacon
1 Onion
2 Tablespoons Smoked Paprika
2 Carrots
1 15 1/2 ounce can of Navy Beans, rinsed and drained
1/2 cup Chicken Stock
piece of Parmesan Rind*
Salt and Pepper to taste
In a heavy saucepan, heat the olive oil. Meanwhile, dice the bacon and onion. Sauté the bacon until the fat starts to render. Add the onion. Dice your carrots.
When the onions are translucent and beginning to brown, add the paprika. Stir and heat through – about a minute. Add the diced carrots, beans, chicken stock and parmesan rind. Simmer until the carrots are tender, adding liquid if needed.
Taste and add salt and pepper if needed. Be careful of over salting. Between the bacon and the parmesan and the canned beans, you may already have plenty of saltiness.
Remove the parmesan rind. Serve.
*if you don't have a parmesan rind, simply throw in a piece of parmesan or even some of the grated stuff