Lentil Soup with Coconut Milk and Saffron – Michelligatawny
Sometimes interesting things happen when working within limitations. A couple years ago I was cooking for a sick friend with a long list of food limitations and came up with this soup. She told me it reminded her of Mulligatawny so I've called it after her ever since: Michelligatawny.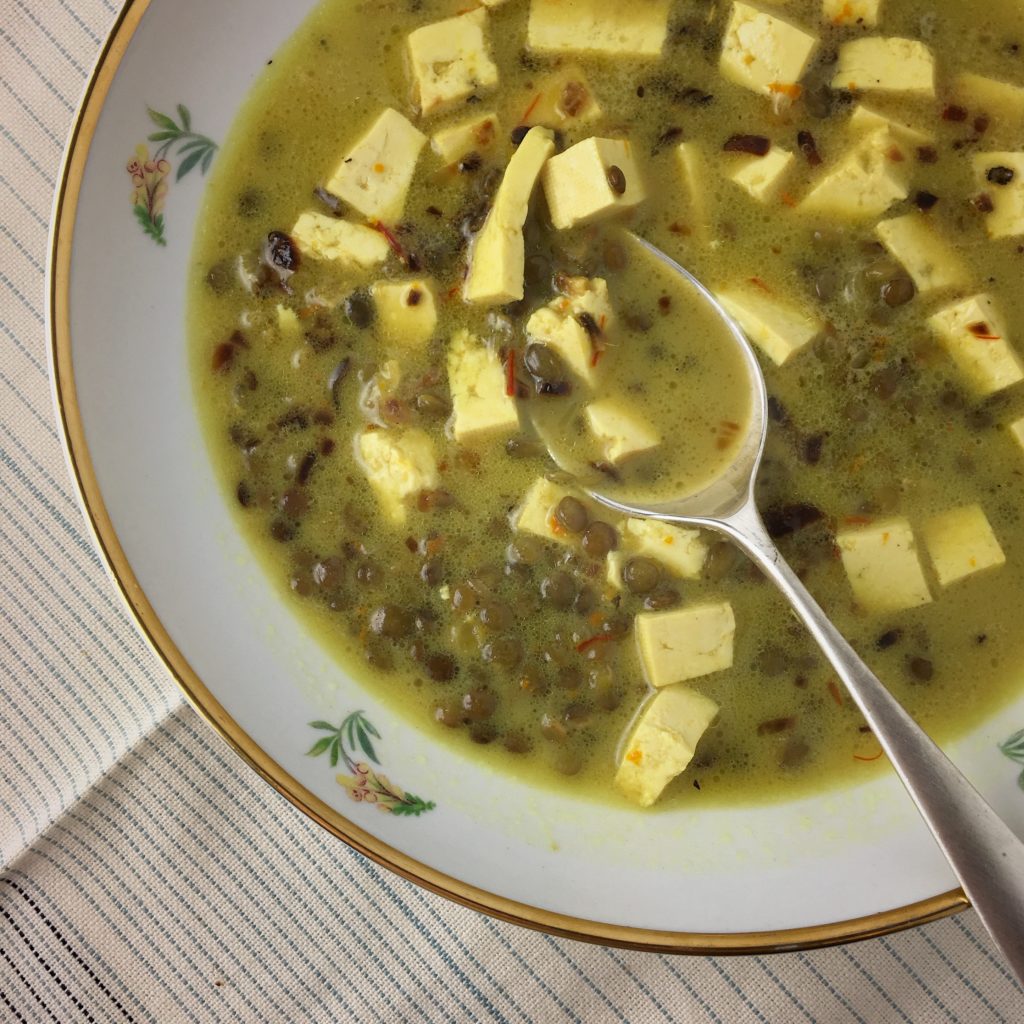 Recipes are like the Pirate code from Pirates of the Caribbean – more like guidelines anyway. That said, it helps to know why particular ingredients are chosen before deciding on substitutes. Most lentil soups I make are thick. They break down in the cooking process and absorb liquid – creating a stewy texture. This soup is more about the broth and so I chose French Green Lentils. They are better at holding their shape and not taking over the bowl. So if you choose a different lentil you will want to keep that in mind.
Every time I've served or been served a dish flavored with saffron someone will talk about how it is 'the most expensive spice in the world. Please pretty please for me – will you cut that conversation off? It's tedious. If you have to discuss the saffron let's compare how much saffron you need to flavor a dish  to how much you need of one of my other favorite spices, dried dill weed. Pinches versus palmfuls. Or consider
all the work
needed to deliver it. Saffron delivers an awful lot of flavor for all it takes to get it to our tables. Maybe just enjoy that flavor without getting wrapped up in the dollars and cents.
1/4 cup French Green Lentils
2 tsp finely diced or grated ginger
1/2 a tsp fresh grated turmeric
Rinse and cook the lentils, simmering in the chicken stock (and a pinch of salt if the stock is unsalted) until tender – 20-30 minutes. Meanwhile, sauté the onions in olive oil until soft. Add the ginger and cook through.
When the lentils are done cooking, drain and return to the pot. Add the onions and ginger along with the turmeric,  saffron, coconut milk and tofu. Cook over medium heat until heated through. Taste and add salt if needed.