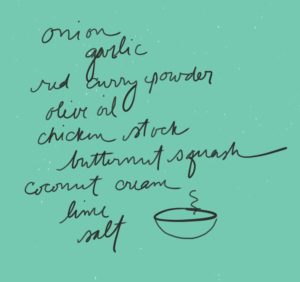 There is something about having at least one ingredient prepped  that makes me about 10x more likely to cook after a long day of work instead of looking at a list of unassembled ingredients and deciding to pop some popcorn for dinner (not that, um, I would EVER do that.) On Sunday I tossed a butternut squash in the Instant Pot treatment (one cup of salted water, six minutes on high with manual release) while I made dinner. I also cleaned and gave its seeds about an hour in the oven on 200 degrees to dry them out. And so, having given myself just that little bit of momentum, this Monday night meal came together nicely.
This soup was intended to be my sister's recipe, one that takes dairy cream and is livened up with apple juice. But when I forgot to pick up the cream and remembered I had coconut cream I decided to go a different direction. As with all my 'recipes' you'll want to adjust to your liking. I cook for one and buy the smallest butternut squash I can find in the pile. If you're cooking for a family and picked out the larger squash you'll want to taste and adjust as you go.
red curry powder to taste
one not very large butternut squash, peeled and cut and precooked if possible
half a can of coconut cream
lime juice to taste (optional)
In a heavy bottomed pan, heat your favorite sauté oil – I used olive oil and a smidge of butter. Sauté the onions until fragrant. Add the garlic and continue cooking for a minute or so. Add the curry powder and sauté til fragrant.
Add the chicken stock and the butternut squash. Bring to a boil and then reduce heat to a simmer til tender. If you haven't had a chance to pre-cook the squash this will take longer but still work just fine.
While the soup is simmering, zest and
supreme
the lime. Once the squash is tender, add the zest and lime. Using an immersion blender, puree the soup thoroughly. Add the coconut cream. Heat thoroughly.
Taste and add curry powder or salt to taste. The coconut cream and butternut squash combo might be a tad too sweet. If so a splash of bottled lime juice will balance things out. 
seeds from the butternut squash, washed and dried (200 for an hour should do it)
Toss the seeds with just enough olive oil to coat. Add the cumin, coriander, salt and pepper to taste. Bake in oven at 350 until crisp, about 30 minutes.