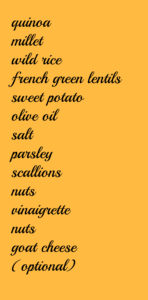 This is a great side dish for potlucks when you want to offer a healthier option than the usual chips and dip. Without the optional goat cheese it even qualifies as vegan (though if your friends are as carnivorous as mine I wouldn't recommend announcing that as you arrive at the potluck). It holds up really well in the fridge for leftovers the following day or two, which helps make up for the fact that with all the cooking and cooling it does require plenty of plan-ahead time and multiple pots and pans.
If you want to serve this as a one-dish meal add diced avocado (sticking with the plant-centric theme) or diced chicken. But if you're expecting leftovers, serve the avocado on the side rather than mixing it in.
A word about salads like this that count on layers of flavor. It can be tempting to count on the combination of ingredients and dressing to make the dish work, while being a little sloppy with the preparation of each element. But this dish will really sing only if each part of it can stand on its own. Remember to include salt in the cooking – bland lentils or quinoa will be the fastest way to turn all your work into a disappointment.

Potluck Grain Salad
1/2 cup quinoa, cooked and cooled
1/2 cup millet, cooked and cooled
1/3 cup french green lentils, cooked and cooled
1/2 cup wild rice, cooked and cooled
1 sweet potato, diced
olive oil
salt
1/2 bunch flat leaf parsley, chopped
1/2 bunch scallions, chopped
1 handful nuts – pine nuts or almonds
fruity clear vinaigrette**
crumbled goat cheese (optional)
Preheat the oven to 450 degrees.
Cook the quinoa, millet, lentils and wild rice according to package instructions. Be sure to cook with a pinch of salt. Drain and cool.*
Meanwhile, peel and dice the sweet potato. Toss with a little olive oil and a pinch of salt. Spread on baking sheet and roast until tender. Cool.
Spread the nuts in a skillet and place in oven. Toast until golden. Cool.
Chop the scallions, including white and green parts. Chop the parsley.
Combine the quinoa, millet, lentils, wild rice, sweet potato, nuts, scallions and parsley. Add dressing, salt and pepper to taste to taste. Top with goat cheese if using.
*If you are pressed for time, spread on a baking sheet and place in the fridge for quicker cooling.
**I like to dress salads like this with a vinaigrette made with white balsamic. The color of regular dark balsamic will detract from the looks of this dish.